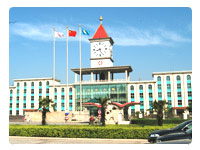 Brief Introduction of Jiangsu Shagang Group
Shagang Group is a key enterprise group in Jiangsu Province, a superking-sized National Industrial Enterprise, the Largest Private Steel Enterprise in China, and is headquartered in Zhangjiagang City, Jiangsu Province.
Shagang Group currently possesses total assets of RMB132 billion and more than 35,000 employees. Its annual production capacity is 29 million tons of iron, 35 million tons of steel and 33 million tons of rolled products. Shagang has been awarded the honors of the titles such as "Nationwide Customer Satisfaction Enterprise", "Grade AAA Enterprise for Quality, Service and Reputation", "China's Enterprise Brand of Quality and Sincerity", " National Innovation-oriented Enterprise", "Model Unit for Environmental Protection in China", "New High-Tech Enterprise of Jiangsu Province", "Circular Economy Construction Model Unit of Jiangsu Province", and so on.
Its leading products of wide heavy plate, hot rolled strip coil, hot and cold rolled stainless steel sheet, high speed wire rod, large bundle of wire rod, ribbed steel bar, special steel round bar have formed 60 series and more than 700 varieties with nearly 2000 specifications, among which high speed wire rod and ribbed steel bar products etc. have been awarded the titles of "Gold Cup Award of Internationally Advanced Physical Product Quality", "National Customers' Satisfactory Products" and so on. Ribbed steel bar product has obtained certification of CARES; high quality wire rod won "Chinese Famous Brand" products and "Inspection-free Export" commodity and other titles. The total annual production volumes and exportation of prime wire rods have both ranked the first in China for consecutive years; hot rolled strip coil has passed the CE Certification by the European Union; shipbuilding steel plate has passed through the classification society authentication of 9 countries. The trademark "Shagang" has won "the Well-known Trademark of China". In 2009, Shagang Group was the 35th on the list of the Top 500 Chinese enterprises; the 11th in the Top 500 China Manufacturing Enterprises, ranked the first in National Private Enterprises and became the unique private enterprise from Mainland China entered into the Fortune Top 500 of the World.
In 2009, Shagang Group took full use of its comprehensive advantages of its process equipment, product mix/structure, company branding strategy, modern logistics etc. to optimize its product structure, promote its technological innovation, pay close attention to reducing cost and improving efficiency, innovate its marketing mechanism, expand the markets with its great efforts, actively respond to the challenges and tests, so that the Company's production operation has remained a good momentum of development. For the Year 2009, Shagang Group has fulfilled producing 22.14 million tons iron, 26.39 million tons of steel (which ranked the 7th in the world's steel counterparts; the 5th in China's steel counterparts), 23.28 million tons of rolled products, and RMB146.3 billion of sales income, RMB7.3 billion of profit and tax.
Shagang Group will conscientiously implement the State policy concerning the steel industry development. With the guidance of Scientific Outlook on Development, Shagang would pursue the sustainable development strategy, take a new road to industrialization, speed up transformation and upgrading, vigorously promote the readjustment of product structure, further extend its industrial chain, pay an adequate attention to supporting enterprises, build modern logistics, implement capital operation, constantly improve its overall competitiveness in order to further make Shagang perfect, strong and excellent and try our best to build Shagang as a famous brand of "Hundred-year Old Factory". Also Shagang people will make new contributions to building harmonious Jiangsu and making China become a powerful steel country.
Copyright © SHAGANG GROUP Inc. All Rights Reserved
Address: Jin feng.ZhangJiagang City.Jiangsu  Post:215625  Tel:0512-58568800