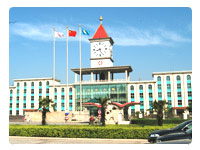 Jiangsu Shagang Group is one of the Superking-sized National Industrial Enterprises, the Largest Private Steel Enterprise in China, and its headquarters is located in Zhangjiagang City, Jiangsu Province.
Shagang Group currently possesses total assets of RMB150 billion and more than 30,000 employees. Its annual production capacity is 31.9 million tons of iron, 39.2 million tons of steel and 37.2 million tons of rolled products. Shagang has been awarded the honors of the titles such as "Nationwide Customer Satisfaction Enterprise", "China Grade AAA Enterprise for Quality, Service and Reputation", "China's Enterprise Brand of Quality and Sincerity", "National Innovation-oriented Enterprise", "Model Unit for Environmental Protection in China", "New High-Tech Enterprise of Jiangsu Province", "Circular Economy Construction Model Unit of Jiangsu Province", "Information Technology and Industrialization Merged Model Enterprise of Jiangsu Province", and so on.
Its leading products of wide heavy plate, hot-rolled strip coil, high-speed wire rod, large bundle of wire rod, ribbed steel bar, special steel round bar have formed 60 series and more than 700 varieties with nearly 2000 specifications, among which high-speed wire rod and ribbed steel bar products, etc. have been awarded the titles of "Gold Cup Award of Internationally Advanced Physical Product Quality", "National Customers' Satisfactory Products", and so on. Ribbed steel bar product has obtained certifications of CARES; high-quality wire rod won "Chinese Famous Brand" products and "Inspection-free Export" commodity. The total annual production volumes and exportation of prime wire rods have both ranked the first in China for consecutive years; hot-rolled strip coil has passed the CE Certification by the European Union; shipbuilding steel plate has passed through the classification society authentication of 9 countries. In recent years, Shagang products have been exported to over 40 countries in East Asia, South Asia, Middle East, Western Europe, South America, Africa and other countries and regions. The total export volume has been ranked in the forefront of the national counterparties for consecutive years. And Shagang has awarded "Quality Award of Export Enterprises in Jiangsu Province".
Facing the severe tests of complicated macroeconomics situation, intensive competitions in steel industry, substantial declines in profitability, Shagang Group has adhered the quality, benefit and efficiency as the center to fully play its comprehensive advantages of process equipments, product structures, corporate branding, modern logistics, etc., in order to strengthen the organization and management of the production, actively promote the cost reduction of the system, practically reinforce the Brand building, develop new products and optimize the product structure, organize to cut payroll to improve efficiency, further promote the performance appraisal, thus, the company's production operations have remained a smooth and orderly development momentum. For the whole year of 2013, Shagang Group has fulfilled producing 31.70 million tons of iron, 35.08 million tons of steel, 33.85 million tons of rolled products, and RMB228 billion of sales income, RMB5.78 billion of taxation of profit, whose profit performance has ranked at the second among its domestic counterparts.
In recent years, while making its major steel industry bigger and stronger, Shagang has been investing to have formed some modules of resources energy, financial futures, extension of industrial chains, trade logistics, venture/risk investment, real estate, etc. thus the Company's competitiveness has been growing stronger and stronger. In 2013, Shagang has ranked at the 45th among the Top 500 Enterprises of China, was the 14th in the Top 500 China Manufacturing Enterprises, ranked No. 7 of the World Steel Ranking List. And it has entered into the World's Top 500 for five consecutive years, who was listed at the 318th of Fortune Top 500 of the World in 2013, which is up forward by 28 ranks.
In the future, Shagang Group will conscientiously implement the State policy concerning the steel industry development. With the guideline of the Scientific Concept of Development, Shagang would persistently follow the development strategy of "Doing the Steel Industry Finer and Stronger, Doing the Modern Logistics Stronger and More Excellent, Doing the Non-Steel Industry better and more sufficient". Shagang shall continuously speed up its pace of the transformation and upgrading, and constantly enhance its comprehensive competitiveness. Shagang Group will make new contributions in order to forge a "Hundred-year Old Factory", construct a harmonious Jiangsu and build a powerful steel country.
Copyright © SHAGANG GROUP Inc. All Rights Reserved
Address: Jin feng.ZhangJiagang City.Jiangsu  Post:215625  Tel:0512-58568800